Sky x Chili
Sky & Chili, two beautiful examples of the miniature Australian Shepherd, produced a stunning litter of 8 strong, healthy pups on June 10, 2018.
The litter consists of 1 black tri girl, 3 blue merle girls, 1 red merle girl, 2 red tri girls & 1 black tri boy.
Sky and Chili pups are now in their forever homes!
Eight Weeks Old
Debbie Ocean
Black Tri Female
Danny Ocean
Black Tri Male
Sky & Chili
Ridgestars Skyfall
'Sky'
OFA: Excellent
CAER: Clear Annually
PRA: Clear by Parentage
HSF4: Clear
CEA: Clear
DM: Clear
MDR1: M/N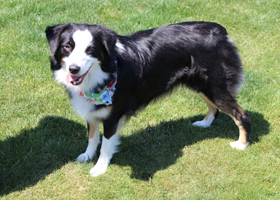 Ridgestar Second Mesa
'Chili'
OFA: Excellent
CAER: Clear
PRA: Normal/Clear
HSF4: Clear
MDR1: M/N