Welcome to Ridgestar Aussies
Small family breeder of miniature Australian Shepherds located in Weatherford, TX area.
Breeding for excellence in temperament, structure, type and sound genetic health. Our dogs are raised as part of our family, not in a kennel! Our local area is Weatherford, Dallas, Fort Worth, Parker County & all of Texas.
Dear Friends ~
As many of you know, after 30 years in Bellingham, Washington & 24 years of providing wonderful canine family members, Charlie & I downsized & moved to Weatherford, Texas. You ask, why? Warmer weather, blue skies, smaller property AND family! Not necessarily in that order.
I have shipped puppies all over the world, either in cabin or in cargo. Every puppy leaves us prepared for their trip. Coming personally to pick up your puppy is always encouraged.
As usual, lifetime support for my puppy parents is and always will be a top priority. Visitors are welcome here anytime.
Stop by & see us, ya'll!!
MASCA HALL OF FAME KENNEL #4
Hall Of Fame Dam #5: Ch Casadey S'mplelife Starvalley
Hall Of Fame XDam #2: Ch Casadey S'mplelife Starvalley
Ridgestar News
* * *   Ridgestar Brags! * * *
I have always enjoyed my puppy parents and the wonderful homes they provide for Ridgestar dogs. These mini Aussies are unique & special in so many ways. it delights me to showcase the athleticism & intelligence that continues to grow after 24 years of breeding.
Meet two talented Ridgestar dogs & their dedicated partners!!
I was taking Nosework classes with Striker when Rooney was a puppy. There was another beginner in class so I started Rooney as well. She liked it well enough when we were searching for food but the change in her excitement level when we added odor was amazing. She literally bounced around the room to find the hides. With Striker it was all about the food, with Rooney it's all about finding the odor.
Rooney sailed through earning her ORT, NW1 and NW2. It took a couple of tries to get her first NW3. We were still getting our teamwork synced up at that point. She went on to earn her NW3 Elite title and is only 12 points away from earning her Elite 1! I never thought I'd be competing at this level. At our first Elite trial we went in cold. I had never seen an Elite trial and I didn't really know what we were supposed to do. I knew Rooney was awesome so I would just let her do her thing!
She's all business when it comes to the search. Nothing distracts her and her alert is so strong I never have a doubt when she's found the hide. She is an amazing partner!
I started nosework with Striker about 13 years ago to help with his confidence and dog reactivity and it really helped with that. Trials were not his thing. He picked up on my nerves and spent his energy checking in with me instead of searching.
Rooney is totally different. She acts like searching is what she was born to do. She's confident and decisive and makes every search a joy. I adore having her as a partner in Nosework and all other parts of my life.
Just wanted to reach out and let you know how much we enjoy and love Remix.  He is truly a blessing and so very talented but more than that he is happy, fun and has an excellent temperament.  He's had a fantastic year this past year.  He finished 3rd in the world at Skyhoundz World Finals fall of 2022, he appeared on ESPN2 with Jack and a sports commentator showing her (the commentator) how to play freestyle and he most recently wowed audiences and charmed people off the field at the Atlanta Falcons halftime show.  Attached is a photo from that event.
* * *   Ridgestar Achievements   * * *
Ridgestars Salute to Independence
CGC ,RON, ASN, AJN, ATN, RATN, CGC, Certified Pet Partner
Indie is the loving companion of owner/handler Darla Gentry. Before moving to Panama with Darla in 2013, Indie had done many training classes, and received his Therapy Dog Certification through Pet Partners(Delta Dog). After moving to Panama, Indie and Darla have been able to return to two MASCA National Specialty shows, 2014 and 2016.
At the 2014 MASCA Nationals, with no prior actual show experience, Indie was  High in Trial Rally Obedience dog, High in Trial Agility Dog, qualified for his Herding Instinct certification, 3 winner's dog- altered, 1 reserve winner's dog – altered, 3 Best of Winners-altered, 1 Best opposite sex  – altered and a 3rd place in the Extreme Aussie Games.
In 2016 Indie and Darla returned to the MASCA Nationals again, where Indie was High in Trial in Rally, Obedience, Acrobatics, and 4th place in the Extreme Aussie Games.
This year, while on a family winter vacation, Indie was introduced to Barn Hunt, and he loved it. With only two lessons under his fur, he was able to qualify for his RATN, and has two legs towards his open title as well. His fastest time so far in Barn Hunt is 26 seconds! He also learned flyball on his vacation, and really enjoyed that, too.
Indie has an 'I can do it' attitude about everything he is introduced to. He is probably one of the most even-tempered dogs around, and most importantly, Darla's best buddy.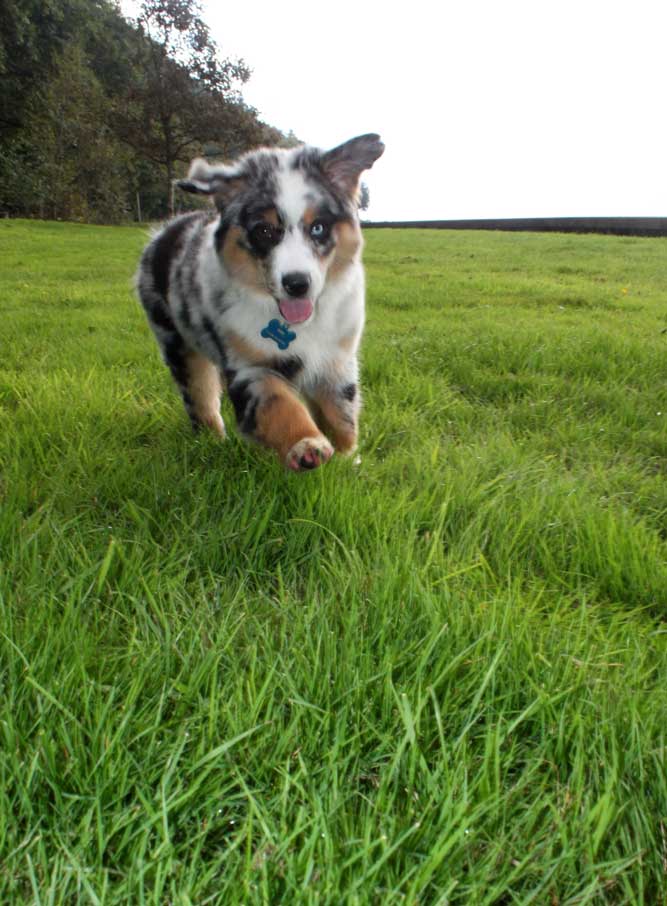 Ridgestar Kickin' It Old School
Sire: Ridgestar Second Mesa
Dam: Maximum Drive at Ridgestar
Owned by Jack and Kat Fahle – Dade City, Florida
Multi Ch Ridgestars Going To The Sun (Traveler)
Sire: Ch Ridgestar Sandyoaks King Creole
Dam: BISS Gr Ch Ridgestar Miss MoneyPenny
Owned by Helen Luksan-Burien, Washington
MASCA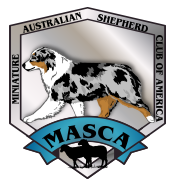 Through MASCA, the parent club and registry for the Australian Shepherd of the miniature variety, the mini Aussie remains a size variety of the Australian Shepherd, with a continuous gene pool. The dogs will NOT become a separate breed, UNLIKE the AKC Miniature American Shepherd. Dog owners and future owners concerned with maintaining Australian Shepherd heritage, instinct, temperament and type in a mini Aussie, are invited to contact MASCA for additional information about the club and its goals.
A MASCA mini Aussie:
Is not registered with the AKC as a breed other than an Australian Shepherd
Is not the same as the AKC/FSS Miniature American Shepherd
Is the true Aussie of the miniature variety
Will always be an Aussie
MASCA is NOT seeking recognition as a Miniature American Shepherd with AKC/FSS.
MASCA will protect the integrity of the MASCA registry and continue to register Australian Shepherds of the miniature variety. We are true to the heritage of our dogs.
LIFE'S ABUNDANCE
DOG FOOD


Order Now
PUPPIES
We maintain a waiting list and invite your inquiries. You are welcome to fill out our Puppy Application.

Adult Dogs
From time to time I retire dogs from my breeding program. Each of them is special in their own way and would LOVE to be the center of attention with folks who have the time for a canine companion. If you are interested in availability, please contact Mona Cooper at 360.303.8787 or info@ridgestaraussies.com.
CONTACT US
Mona & Charlie Cooper
Weatherford, TX
(360) 303.8787
info@ridgestaraussies.com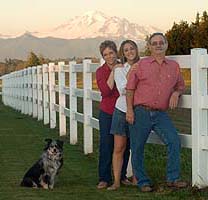 Our Philosophy
Our belief at Ridgestar is that producing excellence in a puppy begins with careful consideration...
Learn More

»
Puppies!
Every litter born at Ridgestar is home-raised and loved.
Learn More

»
Puppy Application
It is our goal to place each puppy in the best home possible. To do that, we need to get to know you.
Learn More

»
© 2021 Ridgestar Aussies