Breeding for excellence
in temperament, structure, type and sound genetic health
MASCA HALL OF FAME KENNEL #4
Hall Of Fame Dam #5: Ch Casadey S'mplelife Starvalley
Hall Of Fame XDam #2: Ch Casadey S'mplelife Starvalley
Ridgestar News
Great news from Ridgestar! We are expecting puppies this summer.
Our M is 12 years old. Folks meet her and are surprised by that. She eats Life's Abundance All Life Stages kibble. M also takes the supplement 'Agility'. She shows no signs of arthritis and loves to run and chase a ball everyday.
Take the Healthy Pet Challenge at HealthierPetChoices.com!!!
* * *   Ridgestar Achievements   * * *
Remix is qualified for Skyhoundz World Finals in Distance and Accuracy with both Jack and Kat Fahle and will be competing in Chattanooga, TN at the World Finals in September.  He is qualified for UpDog International Finals with their friend, Allison Marsh, in several games and he has 2 legs towards his Junior dock diving title with NADD.  He is full of energy, spunk and loves pretty much every person and dog he meets.
Our Story
It was the summer of 1997, our daughter was showing Quarter Horses and we were continually on the road. She wanted a small, furry companion to keep her company. Several dogs from the herding group were always at these horse shows with their families. One breed intrigued us, in particular. We got to spend time with a couple of miniature Australian Shepherds and found them to be irresistible. After researching and asking a lot of questions, we decided that this was the breed for us.
Since we would be in different places and new situations quite often, a number of things were important to us. Our newest family member needed to have a quiet, confident demeanor, stamina for an active life style, take up minimal room in the RV, and foremost, be personable around people and other animals. Minis are all of this and so much more.
Our Dogs
Minis are incredibly intelligent; they have the ability to let you know what they need and want. They know when you need cheering up, and their sense of humor is unsurpassable. The more you laugh at their antics, the more clownish they can become. The mini Aussie's loyalty and affection is unwavering and while, in our breeding program, temperament is primary, the Aussie type and balance are just as important.
RIDGESTAR AUSSIES was born from our love of this small breed and our desire to be involved, in a positive way, in their evolution. Located 90 miles north of Seattle, near the Canadian border, we continually strive to raise the best this breed has to offer. It is our passion and hobby. Visitors are always welcome. Come meet our Aussie posse. See the difference!
STOP APHIS FROM TAKING AWAY THE RIGHT OF SMALL BREEDERS
FROM SELLING QUALITY PETS TO THE PUBLIC
MASCA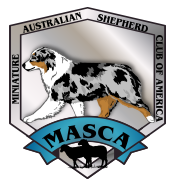 Through MASCA, the parent club and registry for the Australian Shepherd of the miniature variety, the mini Aussie remains a size variety of the Australian Shepherd, with a continuous gene pool. The dogs will NOT become a separate breed, UNLIKE the AKC Miniature American Shepherd. Dog owners and future owners concerned with maintaining Australian Shepherd heritage, instinct, temperament and type in a mini Aussie, are invited to contact MASCA for additional information about the club and its goals.
A MASCA mini Aussie:
Is not registered with the AKC as a breed other than an Australian Shepherd
Is not the same as the AKC/FSS Miniature American Shepherd
Is the true Aussie of the miniature variety
Will always be an Aussie
MASCA is NOT seeking recognition as a Miniature American Shepherd with AKC/FSS.
MASCA will protect the integrity of the MASCA registry and continue to register Australian Shepherds of the miniature variety. We are true to the heritage of our dogs.
LIFE'S ABUNDANCE
DOG FOOD


Order Now
PUPPIES
We maintain a waiting list and invite your inquiries. You are welcome to fill out our Puppy Application.

Adult Dogs
From time to time I retire dogs from my breeding program. Each of them is special in their own way and would LOVE to be the center of attention with folks who have the time for a canine companion. If you are interested in availability, please contact Mona Cooper at 360-312-1030 or info@ridgestaraussies.com.
CONTACT US
Mona & Charlie Cooper
Bellingham, WA
(360) 312-1030
info@ridgestaraussies.com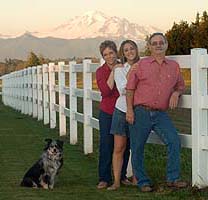 Our Philosophy
Our belief at Ridgestar is that producing excellence in a puppy begins with careful consideration...
Learn More

»
Puppies!
Every litter born at Ridgestar is home-raised and loved.
Learn More

»
Puppy Application
It is our goal to place each puppy in the best home possible. To do that, we need to get to know you.
Learn More

»
© 2017 Ridgestar Aussies